The moment we have all anxiously waited for the last several months has finally come and Jack Eichel is no longer a Buffalo Sabre. After what has seemed like an eternity, the contentious relationship between Eichel and the Sabres has ended and the time has come to move forward with the assets that are coming to Buffalo.
While no one could have possibly seen things ending like this when Eichel was drafted 2nd overall in 2015, there were so many missteps along the way that culminated in this inevitable outcome. At the end of the day, Eichel can get his surgery and perhaps represent USA at the Winter Olympics and the Sabres can take the draft capital and young players to build for the future.
Even though things ended in what some may call a disaster, there were surely some great moments watching a truly elite hockey player like Eichel make many highlight reel plays over the years. Eichel will go down as arguably one of the most talented players in franchise history as he finishes with 355 points (139 goals, 216 assists) in 375 games over 6 seasons.
In With the New
It must not have been easy for Kevyn Adams to navigate such a challenging trade, especially with the cap requirements from both sides and an unhealthy star player. It can certainly be argued that were Jack not injured he would have garnered much more trade interest and likely a higher return but alas, this return is likely the best that Adams could net (short of retaining salary on Eichel's contract) and is what Sabres fans can find some optimism in as the franchise begins a new chapter.
Peyton Krebs
Alex Tuch
Vegas 2022 1st Round Pick* (Top 10 Protected)
Vegas 2023 2nd Round Pick*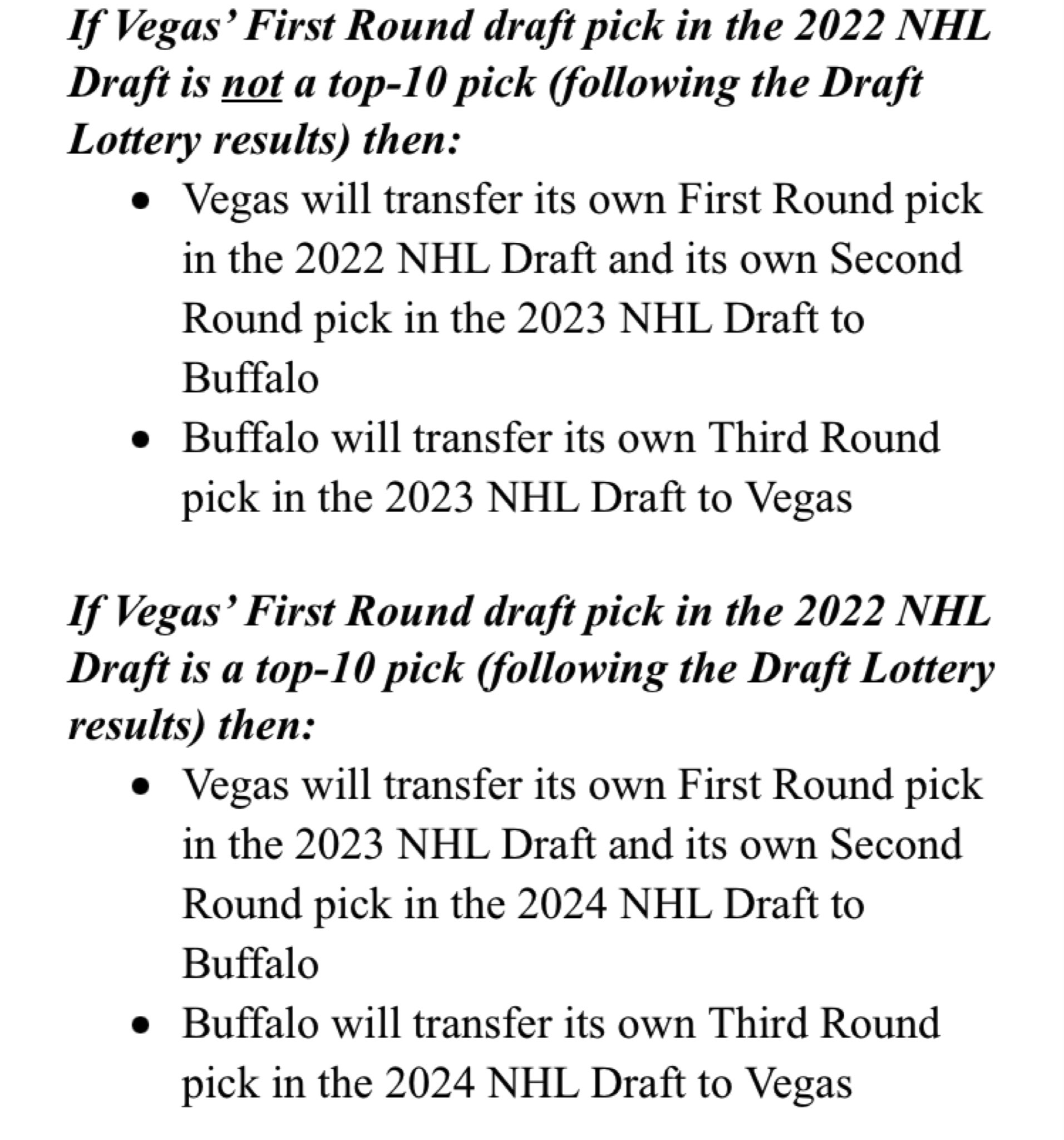 Peyton Krebs
Center | 6′ 0″ | 185 lbs | DOB: 1/26/2001
2021-22 Stats: NHL – 9 GP | 0 G | 0 A | 0 PTS / AHL – 2 GP | 0 G | 5 A | 5 PTS
The main piece in the Jack Eichel trade was prospect Peyton Krebs, a Center drafted by Vegas in the 2019 Draft 17th overall. An injury in his draft year caused Krebs to fall down the draft board but make no mistake, he is an excellent talent who has Top 6 potential in the NHL
Krebs played alongside Dylan Cozens for Team Canada at the World Juniors last year and was a big part of their Silver Medal run. While Krebs and Cozens are two completely different players, the talent level is comparable between the two. Sabres fans should be ecstatic that Kevyn Adams was able to acquire such a high- end prospect.
Hockey IQ and creativity with the puck are arguably Krebs' best assets in his game as he has the ability to dictate the pace of the game by slowing it down at times and also ramping up the speed when needed. This variability in pace that Krebs plays the game makes him unpredictable at times and allows him to create space for himself when carrying the puck or when playing away from it.
Looking at Krebs' shot map at 5v5 over the last two season, Krebs has a tendency to take high quality shots in dangerous areas of the ice. This type of shot selection is a product of Krebs putting himself in positions that yield scoring chances for himself and others.
Krebs Shot Map at 5v5 2020-2021 to Present (Courtesty InStat)
In this play below, Krebs threads a pass to Alex Tuch with speed who ends up with a goal. It's an impressive play for several reason, first and foremost, Krebs could easily dump the puck in and hope Tuch skates after it but he instead opts to stop and buy himself more time with the puck. This delay allows Tuch to catch up on the play and Krebs' high end awareness is able to know where Tuch was, and where he is heading.
The patience and poise with the puck when pressured is critical to maintaining possession of the puck and it takes a very skilled player to accurately make that pass through a stick like that. Krebs is a good skater with generally good speed but as mentioned above, it's how Krebs controls the pace of the game that really allows him to make a positive impact.
In transition, Krebs is very good at getting up ice quickly with possession and is very aware of what he's going to do with the puck as well as all of his options. In the clip below, fending off the attacker as he skates the puck out of the zone is impressive and as he enters the offensive zone, runs out of room. Krebs' maintain possession mentality is why he doesn't dump the puck in at the first sign of pressure and instead opts to curl and hang onto it. While the entry doesn't end with controlled zone time, it's his ability to control and carry that is important.
In this next clip, we see Krebs' burst of speed and vision as he carries it through all 3 zones. As Krebs gets closer to the net, he knows he has a trailer on the play and sets up a prime scoring chance. There's a lot to like about Krebs' game overall as he's very well rounded with some high end offensive potential.
HockeyProspecting NHLe Chart
In Byron Bader's Hockey Prospecting model, it's clear that Krebs is trending in the right direction from a production standpoint to be a sure fire NHL player. While the Star probability is strictly points based, I believe that Krebs has the ability to be a 50-60 point Center who has good underlying numbers as it pertains to high quality scoring chances and shot attempts for.
Alex Tuch
Right Wing | 6′ 4″ | 217 lbs | DOB: 5/10/1996
2020-21 Stats: NHL – 55 GP | 18 G | 15 A | 33 PTS
Slated to return from injury around January 2022, Alex Tuch is a strong add to the Sabres young group of forwards. Tuch is a very large forward with excellent speed and a quick release on his shot who isn't necessarily elite at one thing but a very well rounded hockey player overall. Tuch has been a positive xG% player over the course of his young NHL career as well and figures to be a big role in any future success the Sabres have.
One of the best parts of Tuch coming here is that he is 25 years old and under contract through 2025-26 with a very reasonable cap hit of $4.75 million AAV.
Digging into the analytics, Tuch has above average on ice impacts as evidenced by HockeyViz's charts. It's not surprising to see Tuch take the majority of his shot attempts on the right side of the ice and he has a good enough shot to take them from further out as far as the top of the circle.
Chart Courtesy of HockeyViz
Tuch grades out favorably in Evolving Hockey's model as well, especially on the defensive side of the game. Again, this supports what a well rounded 2-way player Tuch is who is very intelligent both with and without the puck on his stick. With Kevyn Adams clearly placing an emphasis on analytics, adding a player like Tuch drives home the fact that the Sabres are making smart decisions with their roster.
Chart Courtesy of Evolving Hockey
In one last analytics plug, Tuch showed positive impacts via Corey Szndjer's manual tracking data. With Tuch's high end hockey IQ, skating, and general awareness for processing the game, it is no surprise that he grades out well in many of these micro stats categories.
Corey Sznajder Tracking Data – Alex Tuch 2020-21
Tuch should be able to slot into a Top 6 role immediately once he recovers from his injury. While Krebs is the main piece in this deal, don't sleep on how much of a positive contribution Tuch will be able to make in the near future.
2022 1st Round Pick
While this pick is Top 10 protected, it's unlikely that Vegas ends up in the bottom of the standings and pushes this pick to 2023. Regardless of where it ends up, both this upcoming 2022 Draft and 2023 Draft are looking very strong and deep
Possessing three 1st round picks at the moment, the 2022 Draft is looking very promising in the 1st round, especially for right shot defenseman, which is a glaring hole in the organizations depth.
Assuming Vegas' pick ends up between 15 and 32, some players to keep in mind that are right shot defensemen include Ty Nelson, Seamus Casey, Tristan Luneau, David Jiricek, Ryan Chesley, and Kasper Kulonummi.
As far as forwards go, some names to keep an eye on are Noah Ostlund, Frank Nazar, Nathan Gaucher, Marco Kasper, Jonathan Lekkerimaki, Lulian Lutz, and Paul Ludwinski.
Looking at Cap Friendly's chart of Sabres draft picks coming up, the future is very exciting in Buffalo as Kevyn Adams has an opportunity to build a young talented team almost completely through the draft.
TCB Reactions on Krebs
Austin Broad – "Peyton Krebs is a potential play driving player for the Sabres. With the puck on his stick he has so many tools at his disposal. High-end vision and puck handling ability make him a nightmare to defend in space, and when you close in on him he has the passing skillset to dish the puck to a teammate and avoid trouble. Off the puck he's a a cerebral player and uses his IQ to understand where to be, He will fit in perfectly with Granato's relentless forechecking style, while providing some more offensive pop to the lineup"
Paul Zuk – "Buffalo's acquisition of Peyton Krebs should put a huge smile on every Sabres fan's face. Krebs is an extremely talented playmaker, and should have little issue producing at an above average level relatively quickly. Krebs' impressive skating ability will sure be a treat to watch as he becomes an added threat in transition. Hopefully we can see Peyton Krebs in the royal blue and gold for many many seasons to come."
Walt Zurowski – "There is a lot to like about Krebs' game. He is a fantastic playmaker as he possesses the ability to thread the needle with some beautiful passes. His hockey sense ability allows him to create dangerous scoring opportunities for his teammates. Krebs also managed to get a few games in at center at the NHL level last season."
Joe Marino – "The inclusion of Peyton Krebs in the Jack Eichel trade is a huge win for the Sabres. Buffalo has added a legitimate A level prospect in a deal where most believed that they wouldn't get that type of prospect. Krebs is versatile and is a natural center but also has experience on the wing at the pro level. Adding a young center in this trade is huge for the future of the Sabres"
Curtis Schwartzkopf – "Getting a top tier talent like Krebs was vital to any Jack Eichel trade so I'm ecstatic that Adams was able to pry Krebs away from Vegas. Krebs is very skilled and a very intelligent hockey player who has every tool needed to be a Top 6 forward in the NHL. He needs some more time in the AHL which is perfectly fine with the Sabres current timeline. Vision, creativity with the puck and ability to carry it are skills Krebs has that will make him fun to keep tabs on as he develops his game."
Final Verdict – B
Given how badly this trade could have been with some of the rumors over the summer and Rangers fans suggesting Eichel is only worth a C-Level prospect, this was about as good an outcome that we could get. Retaining some salary on Eichel's contract and allowing him to get the surgery months ago may have allowed the Sabres to maximize the return but that never came to fruition.
At the end of the day, getting an A level prospect and a middle 6, positive impact winger in Tuch, along with a 1st and 2nd round pick will help offset the loss of Eichel to a manageable degree. For Kevyn Adams to be put into such a difficult situation early on in his GM career, he did admirably well with all of the restrictions and stuck to his guns.
Credits