Expected Lines
Sabres
Hall-Sheahan-Thompson
Olofsson-Staal-Reinhart
Rieder-Asplund-Okposo
Skinner-Lazar-Mittelstadt
Bryson-Ristolainen
Dahlin-Miller
Irwin-Montour
Hutton
Capitals
Ovechkin-Backstrom-Oshie
Vrana-Kuznetsov-Sprong
Sheary-Eller-Panik
Hagelin-Dowd-Hathaway
Dillon-Carlson
Orlov-Schultz
Chara-Jensen
Vanecek
Tale of the Tape
Record: Washington (17-6-4) vs Buffalo (6-15-4)
xGF% (All situations): Washington (51.98%) vs Buffalo (39.44%)
5v5 Goals: Pittsburgh (65) vs Buffalo (34)
Leading Scorer: Backstrom (30 points) vs Reinhart (19 points)
Eakin Scratched
After signing a two year, $4.5 million contract to provide offensive depth, the 29-year old is a confirmed scratch for tonight's game. It's been a tough campaign for Eakin, amassing 1 goal (an empty netter) and 3 assists for 4 points in 26 games. Eakin fitting in as offensive depth with a defensive upside has not been evident so far this season. In fact, statistically speaking, Eakin has been at the bottom of the NHL when it comes to producing offense at 5v5, according to JFreshHockey: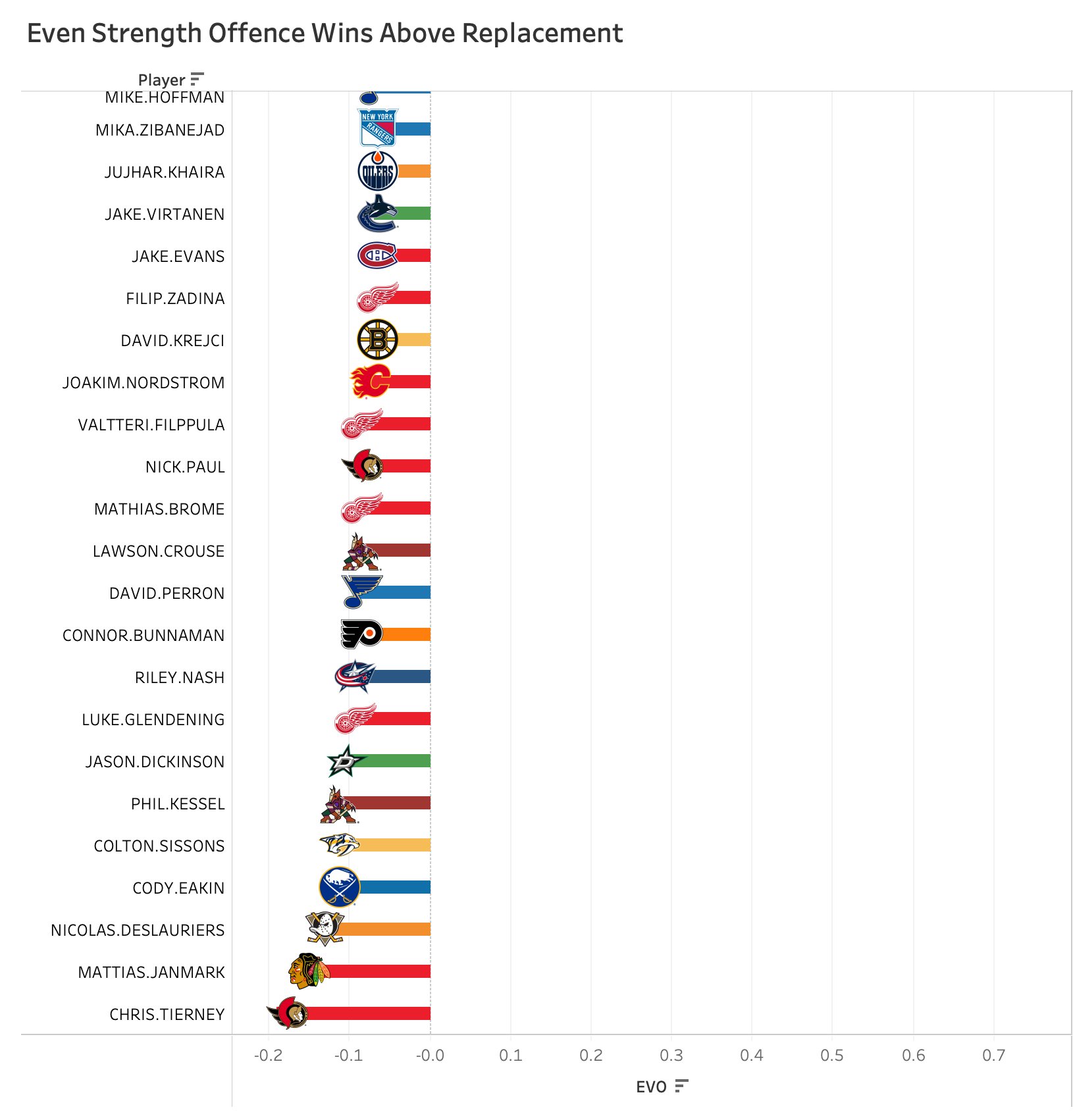 Milestone Watch
Alexander Ovechkin can tie Phil Esposito for 6th all time in goals scored (717) with a goal tonight. Two goals will put him in sole possession of 6th all-time in goals, with Marcel Dionne's 5th place spot of 731 career goals in sight. Also, Ovechkin can reach 1,300 career points with two points tonight.
Evegny Kuznetsov needs a single point to reach 400 career points. With noted Sabres-killer Jakub Vrana on his wing, this milestone is well within his grasp to achieve tonight.
Brandon Dillion is one assist away from 100 career assists.
While unattainable tonight, each team has players approaching other career milestones. Kyle Okposo is 4 goals away from 200 career goals. Eric Staal is 8 assists away from 600 career assists, John Carlson is 9 assists away from 400 and Rasmus Ristolainen is 10 away from 200. Goaltender wise, the only foreseeable milestone for either team's active goaltenders is Carter Hutton being 6 wins away from 100 in his career.
Can Sabres Stop Skid?
Losers of 10 straight games, the Buffalo Sabres welcome the Capitals to town tonight. In the five games prior to tonight's matchup, the Sabres are 1-3-1 against the Capitals. Washington nearly doubles the 5v5 offensive output the Sabres and with Eichel and Cozens out of the lineup, it is fair to assume that disparity will be on display this evening. The depth of skilled centers vanished with Eichel's injury, with Eric Staal being the offensive leader down the middle with just two assists in his last nine games for a total of 10 points.
Compounding the lack of skilled depth down the middle to produce 5v5, the Capitals own the vast majority of the high danger shot attempts over the Sabres, 62.5% to be exact. The production issues are nothing new, but tonight being the night they snap this trend would come as a shock to all.
Rasmus Ristolainen encapsulated his journey to another lost season this morning:
Personally, when it's your 8th year and it's been almost identical, similar, to the years in the past, at least I have a very thick skin. I know how to handle it.

Sabres Defenseman Rasmus Ristolainen
Amerks Still Quarantining
The active roster and taxi squad are the only players the Sabres have at their disposal for the time being. With the Amerks having a positive COVID test come up last week, the team and its staff are quarantining. Those looking for Arttu Ruotsolainen to get his shot with the big club (which he should, they are in dead-last in the NHL, why not give him a shot?) will have to wait at least a week or two before that's even a possibility.
Get the Goalies a Win
The Sabres sorely miss the services of Linus Ullmark, who has 75% of the Sabres victories this season. Ullmark is expected to be out until late March, early April. Before and after Ullmark's injury, the players are not stealing wins for their goalies when they have a bad performance. The goalies are not stealing wins for the players when they have a bad performance.
Whether it's the offense, defense or goaltending carrying this team to a victory, someone needs to get these goalies some wins. It's not lost on me that the solution is not as simple as that, hockey is a team game for a reason, it takes a collective unit. The Sabres are now at a point where, considering this collective unit has lost their last 10 games, I feel it is fair to say it will take a goalie or a small handful of players to take over a game to pull out a victory. Here's hoping a complete 60-minute team game comes to life tonight in Buffalo.
The tandem of Hutton and Johansson are in a difficult position. Neither are starting goaltender or 1B worthy. Hinging a broken, low-event system on two below average backup goalies is the exact recipe for what the Sabres are cooking up. Injuries happen and deserve consideration when dissecting the flaws of Sabres goaltending, but even with Ullmark in net, it is a tall task to backstop this team.
Carter Hutton (1-8-1, 3.15 GAA, .893 SV%)
Jonas Johansson (0-4-1, 3.91 GAA, .883 S%)
Hall and Skinner Scoring Woes
Going back to data pulled by JFreshHockey, out of 811 players in the data set calculating the Lowest Goals Scored Above Expected, Taylor Hall ranks 811th with -7.7 GAx (goals above expected) and Jeff Skinner ranks 806th with -4.8 GAx. Jack Eichel makes the list as well at 805th with -4.4 GAx, but with reports coming out he's been playing this season with a cracked rib, his decline in play is understandable.
Whether it's bad luck, gripping the stick too tight or simply being unable to finish their chances, the burden of the lack of scoring will fall on their shoulders. Regardless of their linemates, playing time or the team's system, these two are paid to score goals and despite their plentiful chances, they aren't finding the back of the net. Analytics are not necessary to make that observation, but it is important to note it is not from a lack of quality on their chances. They are getting to the right spots, they just need to bury.
Prediction
5-2 Captials. Until the Sabres win a single game, don't expect many predictions to the go the Sabres way. The Capitals have the advantage in every aspect of the game on paper. Overlooking Buffalo or very undisciplined hockey would be the only misstep I can see the Capitals make this evening.