Expected Lines
Sabres
Olofsson-Eichel-Reinhart
Hall-Staal-Cozens
Reider-Eakin-Okposo
Skinner-Lazar-Sheahan
Dahlin-Miller
McCabe-Borgen
Montour-Jokiharju
Ullmark
Devils
Johnsson-Hughes-Bratt
Sharangovich-Zajac-Palmieri
Kuokkanen-Zacha-Merkley
Wood-McLeod-Bastian
Smith-Severson
Butcher-Subban
Kulikov-Vatanen
Blackwood
News and Notes
Rasmus Ristolainen
A concerning update surfaced Friday about Rasmus Ristolainen's struggles with COVID-19. According to the English translation of an article from the Finnish news outlet Ilta-Sanomat, Ristolainen is struggling with his symptoms.
Sometimes there were quite disturbed states of being. When there was chest pain, it felt like my heart was cracking as I walked up the stairs. A couple of evenings there were such conditions when I went to bed that I didn't know if I woke up here anymore in the morning. That's when he thought that hopefully this wasn't here now.

Buffalo Sabres Defenseman Rasmus Ristolainen
We hope Rasmus Ristolainen recovers as safely and quickly as possible.
Ristolainen was arguably off to his best start as a Sabres, thriving with Jake McCabe. The Sabres will miss his physical presence on the backend, but this terrible situation has opened the door for Will Borgen to step into a Ristolainen-type role. Borgen might not play on the powerplay as much, but he controls tight gaps, finishes his checks, moves the puck well and skates like a modern day defensive defenseman, which only enhances his stick checking ability. Just don't expect Borgen to be able to defend 4-on-1 breaks all game long.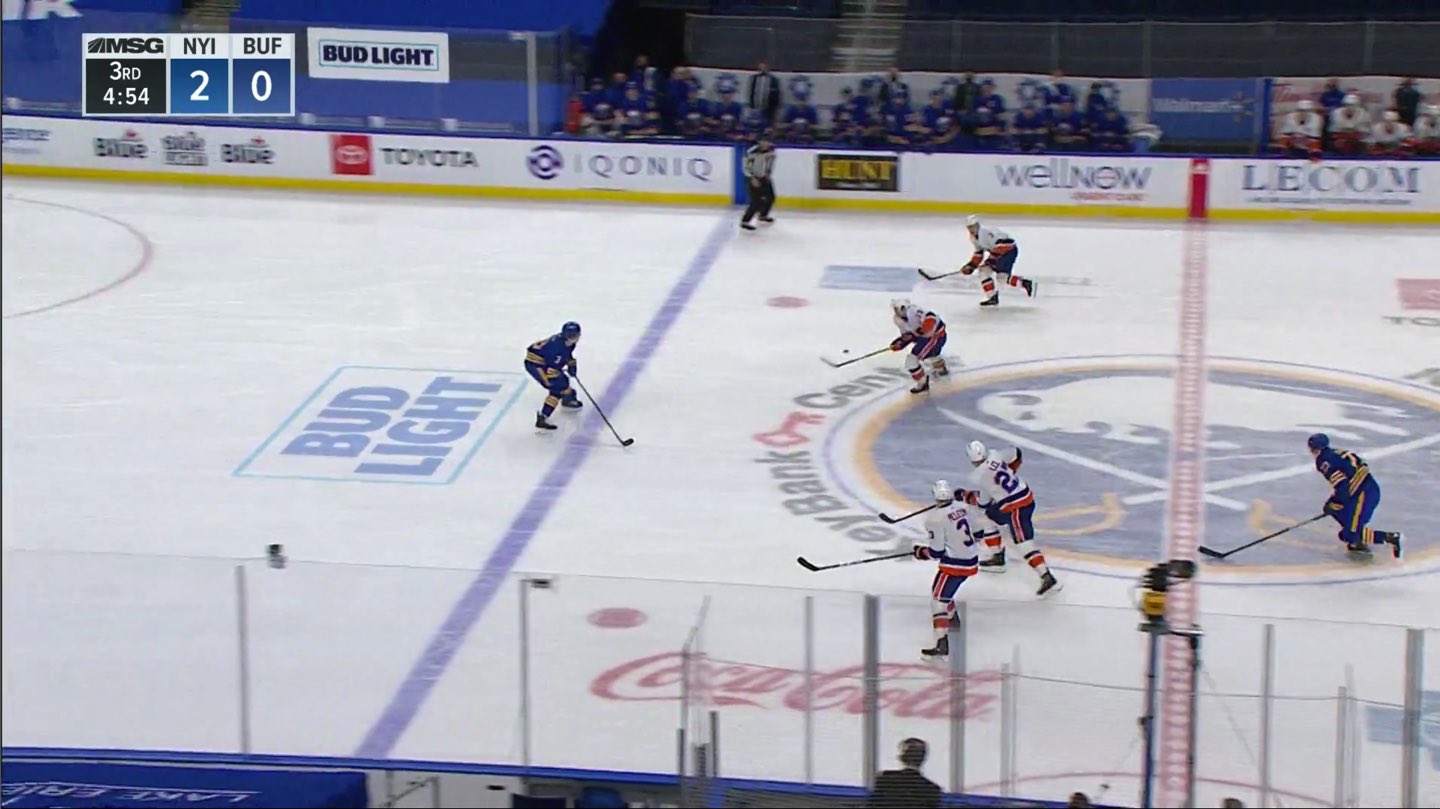 Olofsson Doing Damage on the Power Play
Olofsson is tied for 2nd in the NHL with 5 goals on the powerplay, joining Leon Draisaitl, Dustin Brown, Patric Hornqvist, James van Riemsdym and Auston Matthews. Olofsson would have 6 goals if the 2nd clip below counted after an offsides brought it back. He's collecting assists on the powerplay too. Twice this season he's used his shot to fake and slide a pass backdoor. The Sabres are desperate for scoring and Olofsson has the touch right now. The Sabres will need to focus on keeping their feet moving and drawing penalties so Olofsson can go to work.
Powerplay vs 5v5 Scoring
Ralph Krueger had an interesting response to a question about the team's dominant powerplay, but inability to score 5v5.
I'll be honest here: I am trying to figure that out…We don't have a sick patient here. What we have is one small little sickness within the bigger framework of our game.

Sabres Head Coach Ralph Krueger
Jack Eichel, Jeff Skinner, Taylor Hall and Sam Reinhart collectively have 3 goals at 5v5 in 725:38 minutes of combined 5v5 ice time, this isn't a small little sickness. This is a major problem that the Sabres need to fix or things will continue to spiral out of control, starting this afternoon against New Jersey.
To be fair to Krueger, the Sabres have hit multiple posts in several games this season. Tweaks to his system will not suddenly spark players to go post and in, instead of post and out. This season, the Sabres are producing more high danger shot attempts per 60 minutes of 5v5 play this season (10.08 in 2020, 9.41 in 2019-20). Here's the issue: the Sabres are dead-last in high danger shooting percentage 10.52% whereas last year's Sabres were right in the middle of the league at 17.49%.
On the bright side, the Sabres powerplay ranks 5th in the NHL with a 31.1% success rate. Buffalo will need to stay in that top-5 range all season if they want any chance of the playoffs with their underperforming 5v5 production.
Prediction
Unless today is the game the produce high danger chances and actually capitalize on them without sacrificing defense, there's not much the Sabres will be able to do against a hot New Jersey team. The only time we saw that this season was the 6-1 thumping of the Flyers back on January 18.
Devils 4-1